Joins 'CBGB' and 'The Necessary Death of Charlie Countryman'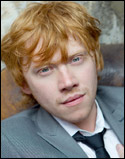 "Harry Potter" star Rupert Grint seems ready to transition into more adult roles, landing parts in "The Necessary Death of Charlie Countryman" and "CBGB."
"Countryman" stars Shia LaBeouf as a normal guy who falls for a woman who's been claimed by a violent crime boss. Evan Rachel Wood co-stars, with Fredrik Bond helming from a script by Matt Drake.
"CBGB" stars Alan Rickman as CBGB owner Hilly Kristal and the New York City club's impact on the underground music scene, highlighting artists like the Talking Heads, the Ramones and Blondie. Grint will play Cheetah Chrome of the Dead Boys, who played a prominent role during the club's rise.
Randall Miller will direct from a script he co-wrote with Jody Savin.
This marks yet another actor from the "Potter" franchise who has chosen to take on smaller prestige films. Emma Watson is filming Sofia Coppola's "The Bling Ring" and Tom Felton, who played Draco Malfoy in the series (and was in "The Rise of the Planet of the Apes") recently landed one of the lead roles in Liddell Entertainment's "Therese Raquin."
---
Original article found here:
www.variety.com
| May 23, 2012